Peter Champoux
8 July 2016 App Feed NightVision Radio Podcast
---
Gaia Matrix: Arkhom & the Geometries of Destiny in the North American Landscape
Thursday, July 7th, 2016 at 10:30 pm EDT, the resolute seeker of truth, René Barnett of NightVision Radio looks for ley line and Earth grid expert Peter Champoux to explain how North America's destiny is predestined by the Gaia Matrix.
PETER CHAMPOUX
Peter Champoux is a gaiagrapher (maps the living Earth) and Earth-Keeper. Author of the landmark book Gaia Matrix, his work brings the individual and community into relationship with our living planet. Discoverer of EarthRings, he is a leading researcher in the field phenomena of ley lines, earth grids, and nature's geometries of scale.
Since the 1990s Peter has turned his originally simple geographic observations into the evolving spiritual art and science of what he terms, Gaiagraphy: the patterns of our living, sentient Earth in alignment with each person's unique path through life. Internationally known as an authority on 'earth grids,' Peter writes on nature's pattern language. An apprenticed master stone mason, Peter is one of many bioneers here to lay the foundation stones for a new age with a new world view. His expanding, inclusive surveys seek to map the lithic, biological, cultural and spiritual interrelationships between people, place, and purpose. 
Gaia Matrix
This Gaia Matrix geometry resulted from a study that began with a tri-angulation of mountains in northern New England.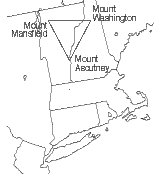 Field Geometry by Peter Champoux
This geometry was reversed and doubled to triangulate the three lakes.
Its center lines bisects Shelburne Falls, Massachusetts, this marks the center of the North American tectonic plate.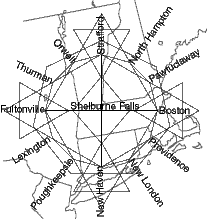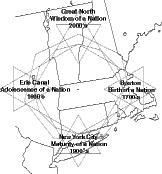 Rivers, mountain ranges, and coast lines all point to Shelburne's granite dome, the geologic or gaiagraphic center of the continental land mass.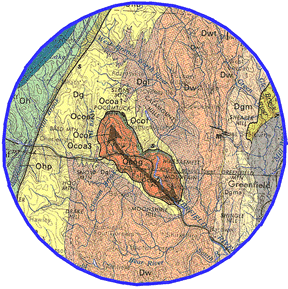 The expansion of this central geometry encompasses the North American Continent, marking magnetic north and the Mid-Atlantic Rift. The next ring expansion marks Hawaii and the western most tip of Alaska.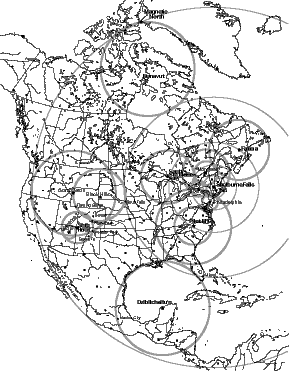 Field Geometry by Peter Champoux
In total a symbol of balance
.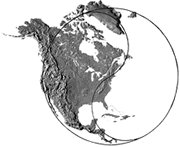 Tune in every Thursday at 10:30 pm eastern to participate in a discussion over esoteric, conspiracies, UFOs, ghosts, and more, right here on the Inception Radio Network.
Podcast: Download
Subscribe: Apple Podcasts | Android | Email | Google Play | Stitcher | RSS
---